Cafe Euphoria is a transgender and gender non-conforming worker-owned and operated cafe and restaurant located in downtown Troy, NY. We feature vegan, vegetarian, and pescatarian cuisine, with additional menu items to support the tastes of our community. We also offer curated thrift, host events, and serve as a co-working space all on a true 3:1  sliding scale (2:1 for merchandise). Our menu features an upscale presentation combined with familiar comfort foods designed to serve our community, including all friends and allies.  
Hours of operation
Monday: Closed
Tuesday-Wednesday: 8am-3pm
Thursday-Friday: 8am-9pm*
Saturday-Sunday: 9am-3pm / First Saturday Game Night 5-10pm
(*kitchen closed 2:30pm-5:30pm to prepare for the evening dinner service) What's Cooking in the Kitchen
Seared Turkey & Camembert
w/ cranberry sauce, vegan mayo, honey mustard, jalapeno, jam, greens. (Plant-based turkey avail.)
Masaman (Thai Yellow) Curry (v,gf)
Carrots, potato, bamboo shoots, water chestnuts, green peas, coconut milk, spices.
Served over white rice, with soy-based pickles.
Scramble / Breakfast Burrito (v/vgt)
Eggs, tofu, sun-dried tomato, greens, feta, sesame oil as scramble (w/bread) or wrapped in a tortilla. Adobo sauce (spicy) or avocado aioli. (gf-option, ask)
Chorizo Tacos (v, gf)
Soy chorizo, corn & black bean salsa, corn
tortillas, house salsa verde
Coconut-Chocolate Muffins Cafe Euphoria aspires to be one of Troy's distinctive cafes and restaurants. We are a safe space and community space. We're a trans visibility project. We create opportunities for our community to connect with our friends and allies, and through this, find belonging and understanding within a wider community. We're a group of artists and their friends who maintain a Queer Art Gallery. We're a coworking space in the making. We host events and programs to draw people together, discover our commonalities, and the value of difference. And we're a safe harbor for those who seek to find a workplace devoid of prejudice, with the opportunity to work together towards a living wage. We're Cafe Euphoria.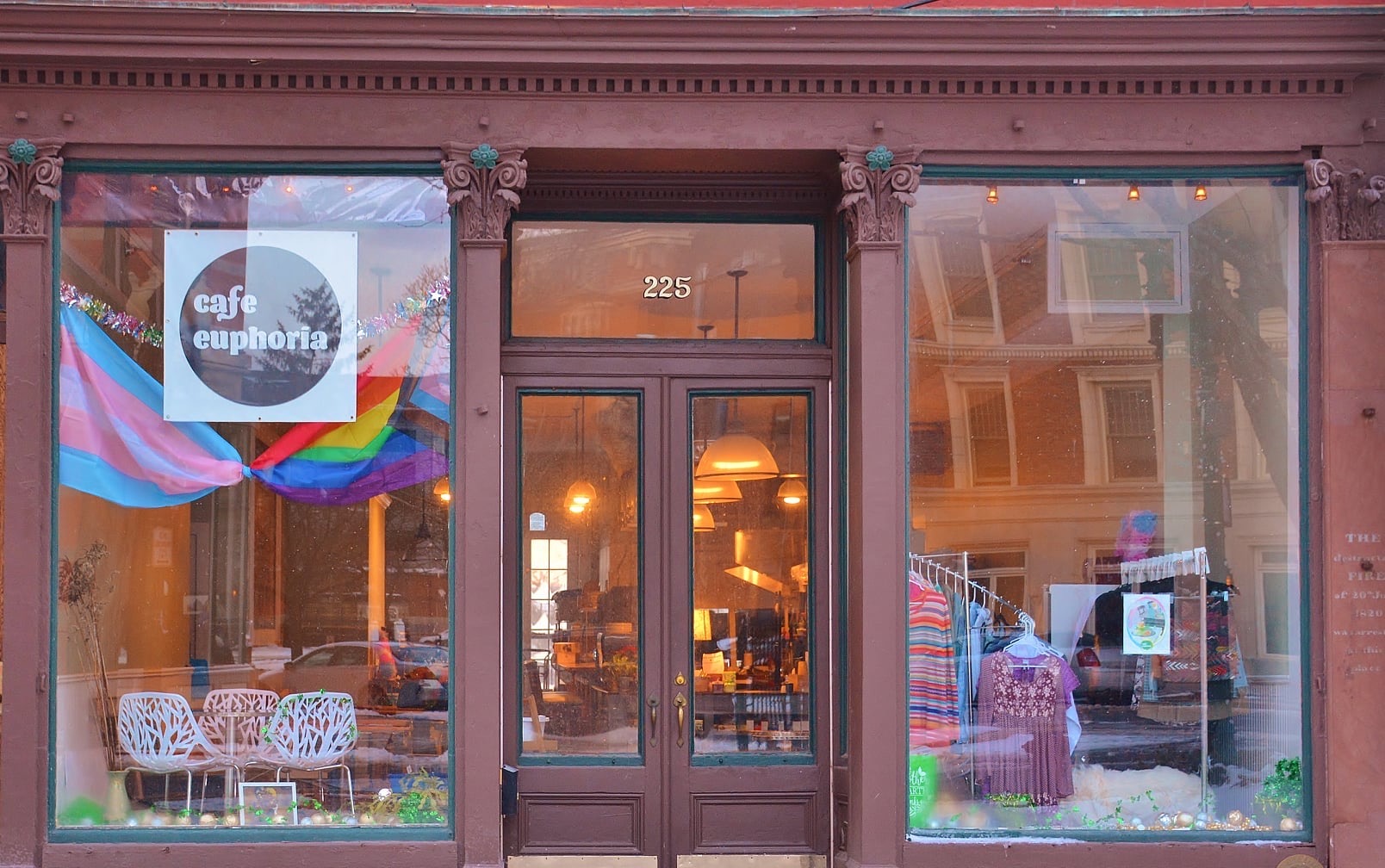 Cafe Euphoria's Story
Cafe Euphoria was founded in 2021 in the midst of a pandemic that had ripped our community apart. While we experienced virtual isolation, a group of us were connected through a local Discord server, and we asked the question, "what if we opened a cafe?" This led to a flurry of conversation that produced the twelve (now 15) rules and principles that define our Cafe. This included a commitment to a safe (or safer) space, where bias wouldn't be tolerated. It was a place where new transgender and gender non-conforming individuals could safely explore and express their identities. It would be a worker-owned cooperative (which we are). And a project that contributed to food and clothing access through an aggressive sliding scale that was available not only to our community, but anyone with a limited income. We're a space for everybody. Please come join us, and experience the thoughtfulness, and the gentle boldness that defines Cafe Euphoria.
Went for a Sunday Brunch with a very small group of friends. I got the Prix Fixe at full price given how much I make and, to my surprise, it was actually a steal for the quality of food and service I was getting. Bagel with lox, egg/tofu scramble, and the butternut squash soup were my favorite, but everything else was still 10/10.
– France L.
Really delicious food that caters to all sorts of dietary needs. We had a tofu scramble with abodo and Aloli sauce that melts in your mouth along side a vegan Belgian waffle that was so fluffy and filled with toppings that I left with a very happy tummy. A perfect place for a cozy brunch with friends.
– Sean F.
I had a WONDERFUL turkey sandwich today. Amazing combination of flavors that worked together perfectly!
Parking: Street parking was no problem at 1pm
– Peggy S.
A hidden gem and quickly becoming a staple of the community. Even if you don't think you like vegetarian cuisine, start simple and you may find you like what they do more than you thought. Be patient with the service, it's worth the wait.
The income-based pricing (on the honor system) makes this an affordable option for everyone, while being well worth the full price if you are able to pay.
– John C.
The Latest From Cafe Euphoria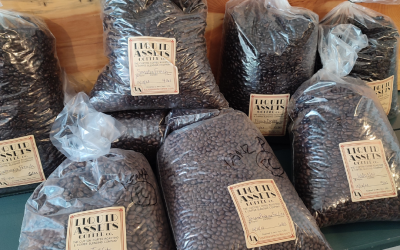 by Atsushi Akera29 November 2023 We offer really selective, single origin dark roast coffees roasted locally by Liquid Assets Coffee Roasters in Averill Park. Liquid Assets was founded by Fred Cashmere, I believe, during the mid 1990s. Located then across from the...
read more